TIM DICK - Founder and Vice-chairman of Hawaii Superferry, Principal behind UseHalf.org, and Co-founder of TRUSTe.org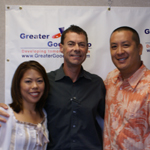 Tim Dick has co-founded not only some of the world's top web companies but also a number of web-based initiatives veered towards uplifting the community and caring for the environment. His various programs – TRUSTe.org, UseHalf.com, and Grassroots.org – have made huge and lasting impact on a broad scope of society.
His sense of triple bottom line execution of business activities stems from parental didactics, which he believes has been a significant factor in his proclivity towards reaching out.
(more…)

Free Contents :-


00:26:06- - 9.42 MB

EVAN and KARI LEONG - Founders and Owners of Greater Good Inc. and Bubble Tea Supply ***** (5.0)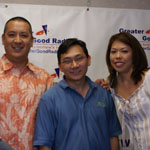 The table has turned around for the second time. Guest-host Darren Kimura of Energy Industries shares the microphone with Evan and Kari Leong to take a look at the growth and development of Greater Good and its hosts in the past year.
Darren compares many of the questions he had asked in the foremost Greater Good Radio special and tries to ascertain the lessons and values that Evan and Kari have learned and adopted as their own in the last 12 months of interviewing successful business and community leaders.
(more…)

Free Contents :-


00:59:56- - 20.58 MB

T. HALE BOGGS - Partner in Manatt, Phelps and Phillips, Director of HiBEAM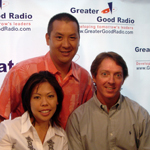 Passion and dedication to what he believes can make a difference bring Hale Boggs a considerable share of rewards through his career and volunteer efforts. In 1998, Hale founded his firm's Palo Alto office from scratch. Starting out in an apartment space, he and an associate brought together a team which would eventually outperform Manatt's other offices across the country.
Hale's association with BizWorld Foundation not only fulfills his philanthropic realizations but also builds connections with business prospects—this while seeing children learn more about entrepreneurship and the underlying entrepreneurial spirit.
(more…)

Free Contents :-


00:27:34- - 11.05 MB

MATT MEE-LEE- CEO of Techmonde Corporation ***** (5.0)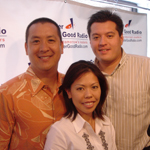 Matthew Meelee started his career working for various software companies in Hawaii. But Matthew's ultimate calling is in the entrepreneurial realm, which brought him to set up an offshore company that caters to the skills requirement of US-based organizations.
Adapting the concept of the BRIDGE program, Matthew and Techmonde Corp. employees opened a whole new philanthropical possibility in the Philippines that has the potential to help a significant proportion of the destitute millions in this Asian country.
(more…)

Free Contents :-


00:25:08- - 8.63 MB

NAOMI HAZELTON and JAMIE GIAMBRONE - Owners and publishers of Pacific Edge Magazine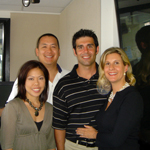 Without capital or financial backing, Naomi Hazelton and Jamie Giambrone were able to put together Pacific Edge Magazine, using only their ability to establish rapport and build thriving relationships with their sponsors and contributors.
Their interpersonal skills were backed by their passion and enthusiasm, and ultimately, their drive to realize a dream. These factors all contribute to the success of their business magazine, focusing on young professionals aged 22-39 years—a demographic group that no other Hawaiian publication has ever touched base on.
(more…)

Free Contents :-


00:25:35- - 8.89 MB

DARRYL MLEYNEK - State Director of Hawaii Small Business Development Center (SBDC)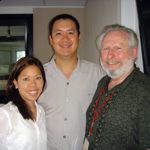 Darryl Mleynek is the incumbent state director of the Hawaii SBDC Network, specializing in consultation and training for existing and starting small businesses in the State. In 2000, he became the recipient of the SBA Financial Small Business Advocate of the Year Award for his contributions to public service.
Mleynek and the SBDC help write business plans, get financing, do business research and the like for Hawaii entrepreneurs. In this interview, he talks about his and the Hawaii SBDC Network's role in uplifting the small business environment in the State.
(more…)

Free Contents :-


00:31:03- audio/mpeg - 12.44 MB

LUKE TUCKER and ERIC HORMANN - Students In Free Enterprise SIFE at HAWAII PACIFIC UNIVERSITY and CALIFORNIA STATE UNIVERSITY at CHICO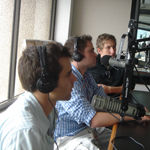 In March 2006, Greater Good Radio did a joint project with the SIFE team at Hawaii Pacific University and California State University, Chico where they won the regional competition, which secures their spot at the national competition to be held in May.
Luke Tucker, president of Hawaii Pacific University SIFE, says that the organization aims to educate and help people through free enterprise by small business assistance and financing different entrepreneurial and educational projects.
(more…)

Free Contents :-


00:29:52- audio/mpeg - 11.97 MB

BILL RICHARDSON - Owner of HMS Hawaii Management Partners, Inc, Partner in Dragon Bridge Capital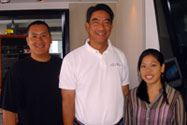 Bill Richardson is an integral entity in one of the leading venture capital funds in the state. He is an active investor and mentor in Hoku Scientific, Digital Island and Hoana Medical.
To add to his career portfolio, Richardson manages to get involved in a number of non-profit and charitable organizations including Hospice Hawaii, Kidney Foundation, HiBeam, and University of Hawaii Foundation.
Richardson started off his career as a lawyer, practicing his trade for three years, but always had business in mind. Through starting his own business he thought he could help the Hawaii economy grow and prosper. His background and extensive connections pave the way for him to engage in venture capitalism.
(more…)

Free Contents :-


00:29:27- audio/mpeg - 11.80 MB


Buy Exclusive Aftershow $5.95

KEVIN SYPNIEWSKI - Founder and CEO of Assist Guide, Board of Entrepreneur's Foundation of Hawaii, HiBEAM member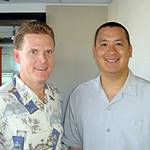 Kevin Sypniewski's AssistGuide is a pioneer in providing long-term care and disability information through the internet. Founded in 1998, the company currently receives more than half a million hits per month with participation of over 400 industry-specific businesses and enlisting 160,000 providers nationwide, making it a leading player in this service realm. AssistGuide 'connects providers, employers, and governments online to enable consumers to find senior and disability products, services, and support they need'.
(more…)

Free Contents :-


00:29:40- audio/mpeg - 11.89 MB


Buy Exclusive Aftershow $5.95

WILLIAM DONOHOE - President of The Shipping Shack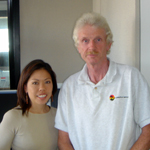 William Donohoe turned an ostensibly fatal ailment into an opportunity to make his dreams come to life.
In January 2002, Donohoe was diagnosed with Arnold-Chiari malfunction (ACM), a congenital brain anomaly, which rendered him futile during the course of his operation and recovery.
He used his amelioration period to plan his shipping business aptly named The Shipping Shack.
(more…)

Free Contents :-


00:28:46- audio/mpeg - 11.53 MB

EVAN AND KARI LEONG - Owners of Bubble Tea Supply, Owners of Greater Good Radio, CEO of Etreo, LLC, Owners of EK Ventures, LLC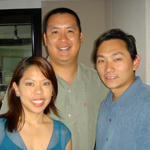 The tables have turned this time for our husband-and-wife radio show hosts.
President and CEO of Energy Industries, Darren Kimura was a guest host for this episode interviewing Evan and Kari Leong, founders and owners of EK Ventures. The show features their careers and how they as a couple handle their seemingly hectic business and family life.
(more…)

Free Contents :-


00:30:12- audio/mpeg - 12.10 MB


Buy Exclusive Aftershow $5.95

— Next Page »