KELLY MCGILL - President and CEO of Grand Pacific Resources, Inc.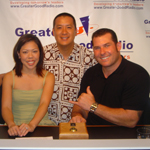 A certified serial entrepreneur, Kelly McGill's business experience extends across the vast expanse of the Pacific. Kelly is the owner and part owner to a number of highly recognized Hawaii businesses including Tiki's Grill & Bar, Nicky Shoe Company, Holokai Grill, and Grand Pacific Resources. He has worked in Australia and entered business ventures in Vietnam.
Tiki's has already received numerous awards since its opening in 2003. Nicky Shoe Company, which Kelly runs with his wife Thao, has won several design awards and most recently was voted "Best of Honolulu 2006" by Honolulu residents. NSC is acknowledged as the only "boutique-style" shoe store in the State of Hawaii.
(more…)
KONISHIKI - Former Sumo wrestling champion, Recording Artist and Founder of the Konishiki Kids Foundation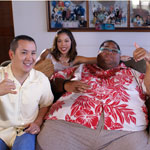 Born Saleva'a Fauali Atisano'e, Konishiki Yasokichi was the first foreign-born sumo wrestler to be named champion or Ozeki. Konishiki won his first 11 matches as an amateur athlete in the Japanese sport. He left after more than 15 years with the Sumo Association and started his own business as a marketing professional, publicizing his persona through television. Konishiki has appeared in several TV advertisements for Japanese companies and products. He is also an established recording artist, debuting in the music scene in 2000.
All of Konishiki's successes are put in to good use as he strives to uplift the lives of not only his family and relatives but also the hundreds of children who are on the verge of losing hope at such a young age. Konishiki founded the Konishiki Kids Foundation to mentor and guide disadvantaged children towards the right path. One of the main philosophies that the foundation wants to put forward is the idea that children have a "choice".
(more…)
JEFF KLECK and WAYNE MCVICKER - Co-founders of Neoforma and Attainia Inc.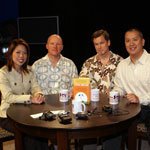 Greater Good Radio highlights Jeff Kleck and Wayne McVicker, founders and partners of Attainia Inc., an Internet-based management company dedicated to improving the management of the capital equipment lifecycle in healthcare. Prior to Attainia, Jeff and Wayne also successfully founded and ran Neoforma, the nation's first significant Business-to-Business online marketplace for medical supplies and equipment.
The partners draw their knack for entrepreneurship from their creativity, flexibility and focus, and as they walk along the path of success, they bring with them a sense of charity and oneness with the community.
(more…)
DEAN McPHAIL and GREG MEIER - President and CEO of Starbucks Coffee and Jamba Juice Hawaii, Coffee Partners Hawaii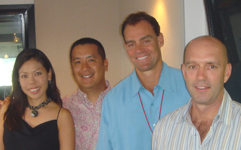 From zero revenues, Dean McPhail and Greg Meier hit the one million dollar mark in 2005 nine years after introducing Jamba Juice and Starbucks to the state of Hawaii. Dean and Greg hold exclusive rights to the two brands for their Hawaii operations, all thanks to their persistence and determination.
For more than a year, the partners had been dealing with Starbucks International who was at the time steadfast in their stand of not giving out franchises for their brand. Eventually, after realizing their goals and objectives, Starbucks executives gave Dean and Greg the green light to establish the brand in the State.
(more…)
ROY YAMAGUCHI - Owner and Founding Chef of Roy's Restaurants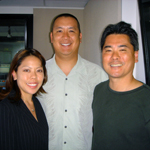 Roy Yamaguchi is one of the world's most famous and successful chefs and restauranters. Roy was the first Hawaii recipient of the James Beard Foundation Award and was featured in Forbes Magazine. Using his local roots and worldwide experience, Roy has put together a world class business. He's an author of numerous books, appeared on TV and has his own line of designer cookware.
(more…)

00:29:57- audio/mpeg - 10.76 MB


Buy Exclusive Aftershow $5.95

LANE MURAOKA - President and CEO of Big City Diner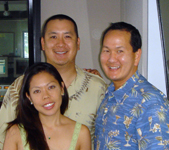 Lane Muraoka has turned his community minded philosophy into a business with a big heart and big success. Big City Diner has grown into 4 locations and big plans for the future. Big City Diner helps employ, train and support people that have fallen on tough times but are still good people. This was recognized by the Division of Vocational Rehab's employee and employer of the year award that they won. (more…)

00:30:52- audio/mpeg - 10.95 MB


Buy Exclusive Aftershow $5.95

GARY MAUNAKEA FORTH - Founder of Ma'o Organic Farm and Aloha Aina Cafe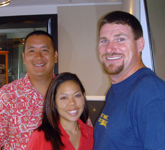 Gary Maunakea-Forth is making a huge difference in the lives of Waianae youth. Placing 5th in the Yale University and 1st in the Chaminade University Business Plan Competition, the Ma'o Organic Farm is an innovative community program to increase opportunities with agriculture. (more…)

00:29:58- audio/mpeg - 11.97 MB