DUSTIN SELLERS - President of Business Development and Marketing for ProService Hawaii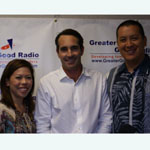 Greater Good Radio brings to the airwaves Dustin Sellers, co-founder of ProService Hawaii, one of Hawaii's largest outsourced employee administration companies. In this interview, Dustin talks about the inception of ProService and its "soulful" origin – having been founded in the outer islands.
He shares his opinion about soccer and why he believes that the state will be able to produce top-notch talents to represent the whole country. Dustin likens the sport to business, which he says "is a long game with a few goals that make all the difference".
(more…)

00:28:14- - 9.70 MB00:28:14- - 9.70 MB

MARK and CHERYL RICHARDS - Founders and Executives of Maryl Group, Inc.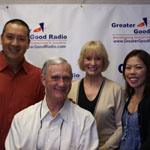 Greater Good features Mark and Cheryl Richards, founders and executives of The Maryl Group, a company that has earned an enviable reputation for master planned communities, commercial centers, custom residential homes, island architecture and impeccable construction.
In this interview, Mark and Cheryl share how they have wound up in Hawaii, engaging in the cyclical world of real estate when they have left a heavy equipment parts manufacturing business in California all for the very same reason. This time around, the couple has been well equipped and fully prepared to face the uncertainties of new beginnings. (more…)
TODD BRADLEY and BRIAN KEAULANA - Founders of C4 Waterman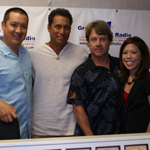 More than highly innovative products, the founders and owners of C4 Waterman, Hawaii-based manufacturers of surfing equipment, have taken to fore the marketing of their lifestyle. Todd Bradley, Brian Keaulana, and Mike Fox base their business philosophy on the four core disciplines of a waterman – balance, endurance, strength, and tradition – leading to their C4 brand. And beyond their mission of advocating the waterman way of life, the C4 owners have grounded a foundation that they hope would protract their already socially veered mindset.
Four months in to their business venture, Bradley, Keaulana and Fox are already riding the huge and fast waves of entrepreneurial success that they wish to reflect back to the community soon.
(more…)
KELLY MCGILL - President and CEO of Grand Pacific Resources, Inc.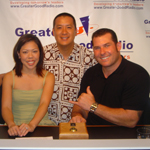 A certified serial entrepreneur, Kelly McGill's business experience extends across the vast expanse of the Pacific. Kelly is the owner and part owner to a number of highly recognized Hawaii businesses including Tiki's Grill & Bar, Nicky Shoe Company, Holokai Grill, and Grand Pacific Resources. He has worked in Australia and entered business ventures in Vietnam.
Tiki's has already received numerous awards since its opening in 2003. Nicky Shoe Company, which Kelly runs with his wife Thao, has won several design awards and most recently was voted "Best of Honolulu 2006" by Honolulu residents. NSC is acknowledged as the only "boutique-style" shoe store in the State of Hawaii.
(more…)
RICK BLANGIARDI - Senior VP and GM of KGMB9 TV, Board of Central Pacific Bank ***** (5.0)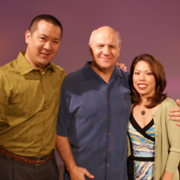 It has been more than 30 years since Rick Blangiardi first stepped in to the television industry, and to him, the journey to the top was a slow but fulfilling endeavor. Rick's career in the broadcasting business has brought him to different locations around the United States. He has worked with CBS Television in New York, KPIX5 in San Francisco, River City Broadcasting in St. Louis, Missouri, and Premier Horse Network in Los Angeles. Early this year, he has gone back to his roots to become senior vice-president and general manager of KGMB9.
Before his career in this industry, Rick was head coach and defensive coordinator for the University of Hawaii football team. He has spent many years living a dream as an athlete and eventually a coach. However, necessity forced him to change course and find a more lucrative profession to support his family.
(more…)
KONISHIKI - Former Sumo wrestling champion, Recording Artist and Founder of the Konishiki Kids Foundation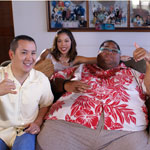 Born Saleva'a Fauali Atisano'e, Konishiki Yasokichi was the first foreign-born sumo wrestler to be named champion or Ozeki. Konishiki won his first 11 matches as an amateur athlete in the Japanese sport. He left after more than 15 years with the Sumo Association and started his own business as a marketing professional, publicizing his persona through television. Konishiki has appeared in several TV advertisements for Japanese companies and products. He is also an established recording artist, debuting in the music scene in 2000.
All of Konishiki's successes are put in to good use as he strives to uplift the lives of not only his family and relatives but also the hundreds of children who are on the verge of losing hope at such a young age. Konishiki founded the Konishiki Kids Foundation to mentor and guide disadvantaged children towards the right path. One of the main philosophies that the foundation wants to put forward is the idea that children have a "choice".
(more…)
KENTON ELDRIDGE - Co-founder of and Partner at Sennet Capital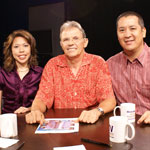 With much experience to boot, Kenton Eldridge has brought talent and knowledge to Sennet Capital, a merchant bank focused on mid-market and emerging growth companies, where he is partner and co-founder. Prior to moving to the islands, Kenton has worked for more than two decades in the retail management sector. Kenton spent 10 years with Federal Department Stores and 15 years with Duty Free Shops (DFS) where he has developed and honed his skills in business management. His tenure with DFS has brought him to different locations around the globe.
Kenton actively engages in community giving and vouches for the importance of giving back to the society one way or another. According to Kenton, he hopes that his partaking in community initiatives would encourage the business community and his personal connections to get involved. He says that involvement in the community can be enacted in several means, from the indirect way of mentoring business colleagues to the more demonstrable manner of participation in non-profit organizations.
(more…)
LARRY JOHNSON - Retired CEO of Bank of Hawaii, Board of Star Bulletin and MidWeek, Hawaii Tourism Authority, Hawaii Pacific University, The Hawaii Community Foundation and The Nature Conservancy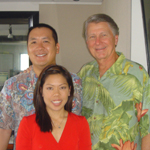 After college, Larry Johnson worked as a bank teller for $500 a month. Eventually, Johnson was appointed to branch manager in Waikiki as a 27-year old. He would then gradually make his way up the corporate ladder to become chairman of the board and CEO of the Bank of Hawaii.
(more…)

00:30:39- audio/mpeg - 28.08 MB


Buy Exclusive Aftershow $5.95

BILL RICHARDSON - Owner of HMS Hawaii Management Partners, Inc, Partner in Dragon Bridge Capital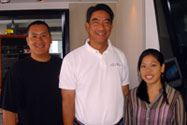 Bill Richardson is an integral entity in one of the leading venture capital funds in the state. He is an active investor and mentor in Hoku Scientific, Digital Island and Hoana Medical.
To add to his career portfolio, Richardson manages to get involved in a number of non-profit and charitable organizations including Hospice Hawaii, Kidney Foundation, HiBeam, and University of Hawaii Foundation.
Richardson started off his career as a lawyer, practicing his trade for three years, but always had business in mind. Through starting his own business he thought he could help the Hawaii economy grow and prosper. His background and extensive connections pave the way for him to engage in venture capitalism.
(more…)

00:29:27- audio/mpeg - 11.80 MB


Buy Exclusive Aftershow $5.95

MUFI HANNEMANN - Mayor of the City and County of Honolulu, Hawaii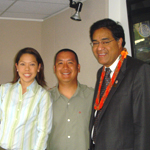 Mayor Mufi Hanneman runs a billion dollar institution with 10,000 employees. His customers comprise three-fourths of Hawaii's population which owns more than half of the state's taxable assets. His office is the city and county of Honolulu.
Listen to this exclusive Greater Good Radio interview with Mayor Mufi Hanneman as he talks about his mission and vision for the state capital, particularly the revitalization of Chinatown to recognize the city's rich Chinese and Southeast Asian heritage.
(more…)

00:29:08- audio/mpeg - 11.67 MB


Buy Exclusive Aftershow $5.95

— Next Page »