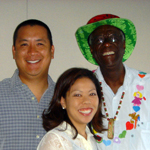 Professional speaker, entrepreneur and literacy advocate Wally Amos talks about the importance of teamwork in business and failure as a means of achieving even greater success.
He shares with us how he lost his first business venture, Famous Amos, which he put up in Hollywood in 1975.
(more…)

00:31:01- audio/mpeg - 12.43 MB


Buy Exclusive Aftershow $5.95.