Meeting with Joan Bennet
Meeting with Joan Bennet owner of the Bennet Group
What's the true measure of value?
Star Bulletin and MidWeek launch
Mayor Mufi Hanneman interview
Jeff Coelho meeting
Broadcast mistakes
Tough negotiations
Pacific Century Fellows
Lunch with Congressman Ed Case, Congressman Neil Abercrombie, Mayor Mufi Hannemann and Jennifer Sabas
Chinatown Chinese New Year Celebration
the dog
Outsourcing
Get off my plate

Free Contents :-


00:17:28- audio/mpeg - 7.00 MB

MUFI HANNEMANN - Mayor of the City and County of Honolulu, Hawaii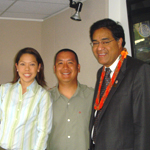 Mayor Mufi Hanneman runs a billion dollar institution with 10,000 employees. His customers comprise three-fourths of Hawaii's population which owns more than half of the state's taxable assets. His office is the city and county of Honolulu.
Listen to this exclusive Greater Good Radio interview with Mayor Mufi Hanneman as he talks about his mission and vision for the state capital, particularly the revitalization of Chinatown to recognize the city's rich Chinese and Southeast Asian heritage.
(more…)

00:29:08- audio/mpeg - 11.67 MB


Buy Exclusive Aftershow $5.95

GAIL JENNINGS - President of HawaiiDiner.com and Everybodyeats.org
Our company had always done pro bono work for various clients. For example, we built a website for G.A.I.N. (Guam Animals in Need) and we also built a site for the now defunct Gift of Life (Blood donation group on Guam) but we never actually structured it into our business plan. When we moved the company to Hawaii, we did personal work as a foster family with the Hawaii Dog Foundation and expected that we'd find a group to assist with web work as we'd done on Guam.
(more…)
DON SODERQUIST - Retired Senior Vice Chairman and Chief Operating Officer of Walmart, Inc, Founder of Soderquist Center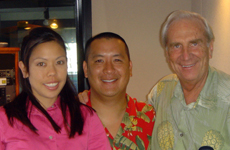 Don Soderquist, retired Chief Operating Officer and Senior Vice Chairman of Wal-Mart, Inc. was instrumental in growing Wal-Mart from $1 Billion to $200 Billion becoming the largest company in the world.
In a twist where the master becomes the student Soderquist shares how he met Sam Walton. Walton was a franchisee of Ben Franklin Stores and Soderquist was the President and CEO. Walton left Ben Franklin to start Wal-Mart, but they kept in touch. Walton continuously asked for Soderquist to join the Walmart team and once Wal-Mart achieved $1 Billion in sales, Soderquist finally left Ben Franklin to work for Walton and later retired as the second in command. (more…)

00:30:58- audio/mpeg - 10.67 MB


Buy Exclusive Aftershow $5.95

What is your greatest accomplishment?
What is your greatest accomplishment?
Blessed life
Kiting in zero degrees
Stay focused
Interview today with Darren Kimura CEO of Energy Industries
Subscription for aftershows is almost ready
Interns
Engaging for PR
Watch for our Star Bulletin columns this Saturday in the Business section

Free Contents :-


00:15:18- audio/mpeg - 6.13 MB