Kari's first journal
Evan left for the Philippines today. There was a build up of stress prior to him leaving because there was so much to do. A lot of work to cram in before he left so that things wouldn't just be in limbo. My goal was to finish things that I might have questions on prior to him leaving. This is the first time that I have to put together an order for Bubble Tea Supply and manage all facets of it. It was a lot of stress because it wasn't just an order, it was a CONTAINER! Evan is the type of person that just does things but doesn't necessarily document it to pass on to the next person, so learning the process from him was slow for me. Every step that he told me was written down in detail so that no mistakes were made. This took a lot of patience from Evan also because I had so many questions, even dumb questions, just so that I could understand why things were done a certain way. Sometimes I feel like I just have to question why things are done, otherwise if I think it's a waste of time I won't do it. Ever feel like that? Well, at least I now understand it all and have notes for the next time.
(more…)
ROY YAMAGUCHI - Owner and Founding Chef of Roy's Restaurants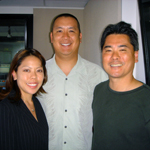 Roy Yamaguchi is one of the world's most famous and successful chefs and restauranters. Roy was the first Hawaii recipient of the James Beard Foundation Award and was featured in Forbes Magazine. Using his local roots and worldwide experience, Roy has put together a world class business. He's an author of numerous books, appeared on TV and has his own line of designer cookware.
(more…)

00:29:57- audio/mpeg - 10.76 MB


Buy Exclusive Aftershow $5.95

Pacific Century Fellows Military Day
Pacific Century Fellows Military Day
Party at Jeff Watanabe's house
Bridge Program for Philippines
Andrew Aoki from 3Point Consulting Interview
Back up audio
Help from Chris Chang
Greater Good TV
Pacific Edge Magazine
Why vs What - french fries and Jon de Mello
The mission is the differentiator

Free Contents :-


00:18:27- audio/mpeg - 7.39 MB

Funeral and thoughts of life
Funeral and thoughts of life
Andy Kluger's insights
Star Network
Public Service Broadcasting
Meeting with Clint Arnoldus and Blenn Fujimoto
Chinatown meeting
Walter Dods, Kevin Sypniewski and James Yamada Jr. Interviews this week

Free Contents :-


0:15:25- audio/mpeg - 6.18 MB

JIM TOLLEFSON - President and CEO of Chamber of Commerce of Hawaii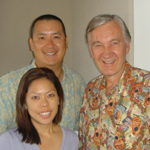 President and CEO of the Chamber of Commerce of Hawaii, Jim Tollefson, shares how the organization works closely with businesses in developing and maintaining a thriving commercial environment in the state.
He talks about the Chamber's initiative in lobbying against the Base Realignment and Closure (BRAC) list which would have shut down the Pearl Harbor Naval shipyard and caused "6000 jobs and an economic impact of a billion dollars each year".
(more…)

00:29:53- audio/mpeg - 10.26 MB


Buy Exclusive Aftershow $5.95.

Feedback on my journal
Feedback on my journal
Chinatown recap
Audio player syndication
New project for ChinatownHI.com
New project for SBRC
Super sick
Negotiations and chunking
Philippines outsourcing
Pacific Leadership Forum
Kipapa Lecture Series
Keeping up
TV news - meant to be?
Greater Good TV

Free Contents :-


00:16:11- audio/mpeg - 6.48 MB