LYDIA TSUI - CFO and owner of Panda Travel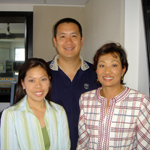 All that Lydia Tsui embodies is a great business person and dedicated servant leader, making her an epitome of female empowerment. In the 80s up to the 90s, Lydia has juggled between her three jobs as CFO of Panda Travel, a real estate developer/manager, and a full-time employee, working even after office-hours seven days a week.
During the mid-90s, Lydia shifted her focus to encompass involvement in the community, donating time and money to the University of Hawaii for sports scholarship and sponsorship programs. Her contributions have earned her a place in the university as a Distinguished Alumni awardee.
(more…)
PBN Forty under 40
PBN Forty under 40
10 more interviews to go
Events in the pipe
Envision Hawaii Conference
Chinatown Summit
Greater Good Television
New interns

Free Contents :-


00:11:28- - 4.60 MB

DANIEL AKAKA - U.S. Senator for the State of Hawaii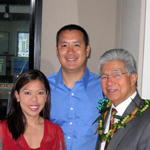 Senator Daniel Akaka's social involvement has its roots from the beginning of his working career. Senator Akaka's public service began in the mid-40s as a welder-mechanic for the US Army Corps of Engineers, gradually making his way to mainstream government to become the United States' first senator of Native Hawaiian ancestry—after years of serving the State of Hawaii in various departments.
Senator Akaka is a ranking member of several governmental committees including the Veterans' Affairs Committee, and the Energy and Natural Resources Subcommittee on National Parks Historic Preservation and Recreation amongst many others. He has received more than half a dozen awards and recognitions throughout the course of his political career.
(more…)
I'm Back - finally
I'm Back
Current Update
Punahou reunion
Kolton Party
Community GGR/GGTV
Kiting with VC's
Reality TV
PRSA
GGTV update

Free Contents :-


00:19:53- - 7.97 MB

JAMES R "DUKE" AIONA JR - Lieutenant Governor of the State of Hawaii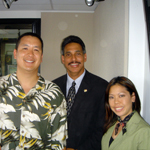 Peace and order are effectively maintained with the presence of individuals like Lt. Gov. Duke Aiona at the forefront in the battle against illegal substances. In the mid-90s, prior to becoming lieutenant governor, Duke Aiona was appointed as Administrative Judge of the newly created Hawaii Drug Court, which to date remains as one of his most fulfilling achievements.
Now, as second in line to the State governor, he continues the fight for a drug-free community through educating the youth about the dangers of illegal drugs and, not to mention, underage drinking. In 2005, he unveiled the Hawaii Drug Control Plan outlining the Administration's goals and strategies in addressing substance abuse issues. With this in mind, Lt. Gov. Duke Aiona is truly a figure Hawaii cannot be without.
(more…)
COLBERT MATSUMOTO - Chairman and CEO of Island Insurance Company, Director Central Pacific Bank, Star Bulletin, MidWeek, Aloha Airlines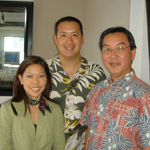 Colbert Matsumoto has truly come a long way from being a small island kid to chairman and CEO of Island Insurance Co., part of the state's largest locally owned and managed property and casualty insurance carrier. Prior to becoming a company executive, Matsumoto worked for 20 years as member of the Hawaii Bar.
He graduated magna cum laude in 1974 with a bachelor's degree in sociology at the University of San Francisco. Four years later, he received his from the University of California at Berkeley, Boalt Hall School of Law. To add to his portfolio of academic and corporate achievements is his unrelenting support for various community-based causes. In 2004, Matsumoto received the Outstanding Community Service Award from JACL for leading the $9 million campaign to save the Japanese Cultural Center of Hawaii from foreclosure.
(more…)