DEAN McPHAIL and GREG MEIER - President and CEO of Starbucks Coffee and Jamba Juice Hawaii, Coffee Partners Hawaii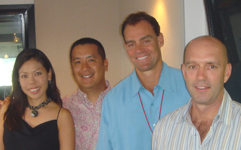 From zero revenues, Dean McPhail and Greg Meier hit the one million dollar mark in 2005 nine years after introducing Jamba Juice and Starbucks to the state of Hawaii. Dean and Greg hold exclusive rights to the two brands for their Hawaii operations, all thanks to their persistence and determination.
For more than a year, the partners had been dealing with Starbucks International who was at the time steadfast in their stand of not giving out franchises for their brand. Eventually, after realizing their goals and objectives, Starbucks executives gave Dean and Greg the green light to establish the brand in the State.
(more…)
Greater Good TV Debuts at #1
Greater Good TV Debuts at #1
Konishiki interview
Greater Good Events Project
SBA Small Business Journalists of the Year Award
HPU Young Alumni Award
Greater Good Book update
Kyle's wedding
Setting deadlines
Offshoring

Free Contents :-


00:18:43- audio/mpeg - 7.50 MB

JOHN DEAN - Managing Director of Tuputele Ventures, Managing General Partner of Startup Capital Ventures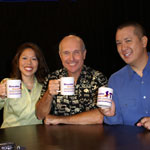 John Dean stands as a legend in the American banking industry for rescuing several financial institutions on the verge of collapse. Nicknamed 'bank turn-around specialist', John lead the re-birth of five major baking institutions which included the Bank of Oklahoma in 1980s, which became the most profitable in the State three years after he stepped at the helm of the company.
His tenure at the Silicon Valley Bank has also significantly improved company portfolio. In his eight years, assets grew from $935 million to $5.5 billion; employees from 235 to over 1,000; and market capitalization from $63 million to a high of over $3 billion.
Having been in the industry for more than three decades, he has gathered the right know-how and experience to become a potent financial advisor to top CEOs and companies.
(more…)
BARRY WEINMAN - Co-founder of Allegis Capital, HiBEAM and Dragon Bridge Capital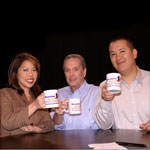 Barry Weinman merged and then took his first company public in the 1970s, making his first nine employees millionaires. Barry then became a venture capitalist helping start-ups become public companies, some of which included Palm, 3Com and Medscape. He co-founded Allegis Capital, HiBeam and Dragon Bridge Capital with much knowledge and skill in the investment industry up his sleeves.
From a well-versed entrepreneur to a discriminate venture capitalist, Barry Weinman knows what it takes for business people and businesses to succeed. His experience in the entrepreneurial world has made him a valuable and effective investor, working with more than 70 start-ups through his company.
(more…)