JEFF KLECK and WAYNE MCVICKER - Co-founders of Neoforma and Attainia Inc.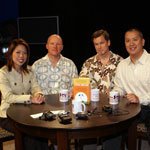 Greater Good Radio highlights Jeff Kleck and Wayne McVicker, founders and partners of Attainia Inc., an Internet-based management company dedicated to improving the management of the capital equipment lifecycle in healthcare. Prior to Attainia, Jeff and Wayne also successfully founded and ran Neoforma, the nation's first significant Business-to-Business online marketplace for medical supplies and equipment.
The partners draw their knack for entrepreneurship from their creativity, flexibility and focus, and as they walk along the path of success, they bring with them a sense of charity and oneness with the community.
(more…)
RICHARD "DICK" GUSHMAN II - CEO of DGM Group, CEO of OKOA, Inc, Trustee of the Estate of James Campbell, Managing Partner of Summit Financial Resources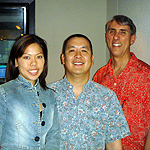 Richard "Dick" Gushman is Chief Executive Officer of DGM Group, one of Hawaii's leading real estate development firms. Dick Gushman has owned and developed projects throughout Hawaii, the US mainland and Guam over the past 30 years. His latest real estate venture includes the Waikiki Beach Walk, a multi-million dollar retail complex, co-developed with Outrigger Enterprises, Inc.
Dick is currently a trustee of the Estate of James Campbell, a $2 billion diversified real estate company, headquartered in Honolulu with investment real estate all over the United States, as well as significant holdings in Hawaii. He has also maintained a multi-faceted role in the community as member of different organizations including United Way of Washington, Aloha United Way, Boys and Girls Club of Honolulu, and University of Hawaii Foundation.
(more…)
KENTON ELDRIDGE - Co-founder of and Partner at Sennet Capital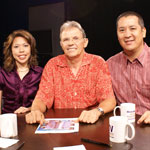 With much experience to boot, Kenton Eldridge has brought talent and knowledge to Sennet Capital, a merchant bank focused on mid-market and emerging growth companies, where he is partner and co-founder. Prior to moving to the islands, Kenton has worked for more than two decades in the retail management sector. Kenton spent 10 years with Federal Department Stores and 15 years with Duty Free Shops (DFS) where he has developed and honed his skills in business management. His tenure with DFS has brought him to different locations around the globe.
Kenton actively engages in community giving and vouches for the importance of giving back to the society one way or another. According to Kenton, he hopes that his partaking in community initiatives would encourage the business community and his personal connections to get involved. He says that involvement in the community can be enacted in several means, from the indirect way of mentoring business colleagues to the more demonstrable manner of participation in non-profit organizations.
(more…)
NICK NG PACK - President and Chief Executive Officer of Milici Valenti Ng Pack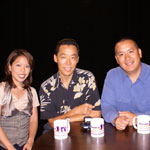 Nick Ng Pack is president and chief executive officer of Hawaii's premier advertising agency, Milici Valenti Ng Pack. Starting his professional career in New York, Nick was hired in 1979 as account management trainee for BBDO Advertising where he worked on Gillette, Lever Brothers and General Electric.
A year later he moved to Hawaii and worked for Milici Valenti. In less than two years, the company's executives put their trust upon Nick's skills and knowledge to handle the agency's largest account, First Hawaiian Bank. In 1984, he was promoted to vice president of the organization, with more top-end accounts under his auspices.
(more…)