MITCH D'OLIER - President and Chief Executive Officer of Kaneohe Ranch Company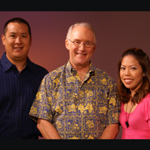 Retirement was the last thing in Mitch D'Olier's mind as he ended his decade-long career with Victoria Ward, Ltd., in 2002. Mitch saw the opportunity of giving back to the community as he transitioned to become president and chief executive officer of Kaneohe Ranch and its non-profit arm, Harold K.L. Castle Foundation.
Mitch did not want his high energy to go to waste and thus chose to transfer this vigor on a more productive setting. He also felt that working in the foundation was too big an opportunity to turn down.
(more…)
ROBIN CAMPANIANO – President and Chief Executive Officer of AIG Hawaii Insurance Company ***** (5.0)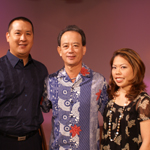 Born in Honolulu in 1951, Robin Campaniano carries the aloha spirit like a true blue Hawaiian. Robin has served the state as a pedagogue, philanthropist and corporate leader, breaking through barriers to uplift the business community and the lives of those around him. He is headlined as a powerhouse in Hawaii's corporate scene, and is described by his peers as one who "doesn't follow trends in the industry, but sets them."
(more…)
RICK BLANGIARDI - Senior VP and GM of KGMB9 TV, Board of Central Pacific Bank ***** (5.0)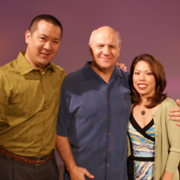 It has been more than 30 years since Rick Blangiardi first stepped in to the television industry, and to him, the journey to the top was a slow but fulfilling endeavor. Rick's career in the broadcasting business has brought him to different locations around the United States. He has worked with CBS Television in New York, KPIX5 in San Francisco, River City Broadcasting in St. Louis, Missouri, and Premier Horse Network in Los Angeles. Early this year, he has gone back to his roots to become senior vice-president and general manager of KGMB9.
Before his career in this industry, Rick was head coach and defensive coordinator for the University of Hawaii football team. He has spent many years living a dream as an athlete and eventually a coach. However, necessity forced him to change course and find a more lucrative profession to support his family.
(more…)
ALLEN DOANE - Chairman and CEO of Alexander & Baldwin ***** (5.0)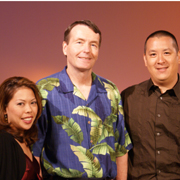 Allen Doane is one of Hawaii's top-ranking corporate executives. Allen has worked in various companies prior to his current tenure as chairman and chief executive officer of Alexander & Baldwin, Inc., one of the oldest and largest corporations and the only surviving Big Five company in the state. He holds an extensive academic qualification from some of the country's prestigious universities.
Through Allen's leadership, Alexander & Baldwin has given more than four million dollars to charities in Hawaii and the Pacific in the last two years. Allen is a director of First Hawaiian Bank and Pacific Guardian Life Insurance Company. He also serves on the boards of a number of community organizations.
(more…)
DANIEL K. INOUYE - United States Senator from Hawaii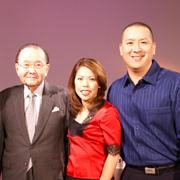 Daniel Inouye has gone through life-changing events that would eventually put him at the forefront of the country's political arena. Today he is a senator who relentlessly advocates the cause of Hawaiians, the very people he has grown to identify with. Senator Inouye has also played a major role in shaping the defense policies of the United States. He has worked to strengthen the armed forces, and enhance the quality of life for military personnel and their families.
Despite being an ethnic minority, young Daniel Inouye displayed a true sense of patriotism as a soldier who fought wholeheartedly against the axis powers in World War II. In March 1943, he enlisted in the U.S. Army's 442nd Regimental Combat Team, the famed "Go For Broke" regiment. He was soon promoted to the rank of Sergeant and was designated as a combat platoon leader during the Italian campaign. He slogged through nearly three bloody months of the Rome Arno campaign with the U.S. Fifth Army.
(more…)