DAVID CAREY - Chief Executive Officer of Outrigger Enterprises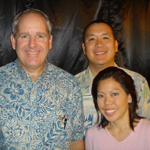 Outrigger's top executive is instrumental in the company's expansion both locally and overseas. From Denver, David Carey moved to Hawaii and initially worked for Outrigger East Hotel, which then had 13 hotels in their system. Now, as president and CEO, David helped in its growth to currently handling 57 hotels, condominiums, and resorts—equivalent to more than 11,000 rooms—in Hawaii, Australia, Guam, New Zealand and the South Pacific.
David Carey is also a huge proponent of education, a key figure in the passing of Act 51—or The Reinventing Education Act of 2004, which allows school principals and teachers to "reinvent" their institutions. David is honored as PBN Business Leader of the Year for 2006 for his outstanding performance in the service lodging and hospitality industry.
(more…)
ROBBIE ALM - Senior Vice President of Public Affairs, Hawaiian Electric Company, Inc.
Robert Alm is senior vice president of public affairs at Hawaiian Electric Company. Robert sits as a lecturer for the Public Administration program at the University of Hawaii at Manoa. He serves in more than a dozen community organizations including Helping Hands Hawaii, Boys and Girls Club of Hawaii, and Family Independence Initiative, to name a few.
Robbie is an Honorary Ali'I of the Royal Order of Kamehameha I. He received the Volunteer of the Year Award 2000 from the Alexis de Tocqueville Society of Honolulu. In the same year, the National Society for Fund Raising Executives (NSFRE) awarded Robbie the Outstanding Volunteer Fund Raiser Award.
(more…)
RAYNETTE TINAY - President and Chief Executive Officer of C&J Telecommunications, Inc.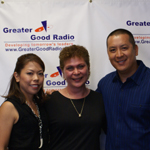 Raynette Tinay is president and chief executive officer of C&J Telecommunications, Inc. Raynette runs and operates the largest call center in Hawaii. She fulfills her double bottom line by providing pro bono call center service to non-profit organizations, which have included Easter Seals Hawaii and Abilities Unlimited to help them in their fundraising efforts.
Despite only reaching the 7th grade, Raynette has strived to learn about the various aspects of life and living. She has gathered inspiration from her family and close friends to become a successful businesswoman and community leader.
(more…)
JEFF CHUNG - General Manager of KBFD TV, Pacific Century Fellow, Board of Hawaii International Film Festival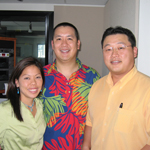 Jeff Chung and KBFD TV took an unprecedented leap in the local Hawaii media and grabbed the opportunity to bring Korean and other Asian films and TV shows in to the Islands' broadcast spectrum. With the introduction of subtitling, Asian programming has become even more popular, not only with Asian-Americans but also the whole community.
Chung's family-run broadcast company started with hour-weekly broadcasts on KIKU-TV in 1976. Two years later, television broadcasts were increased to four hour weekly on the same channel. In 1986, under FCC license, KBFD TV became a full-powered UHF channel and Hawaii's only locally-owned independent TV station.
(more…)

00:29:43- audio/mpeg - 12.04 MB

Executive Vineyards 2008
A Benefit for the University of Hawai'i Shidler College of Business Alumni Association Scholarship Endowment on March 20th, from 6pm – 9pm at the Stan Sheriff Center. The wine tasting will feature hundreds of wines from around the world, generously donated by Better Brands and M&S Brokerage. Enjoy live entertainment by Kani Pa'a and an array of appetizing pupus from Aji House, Eastern Food Center, Chef Dwayne Ancog of Luana Hills, Chef Jay Matsukawa of Willows, Executive Chef Jason Takemura of Hukilau Honolulu, assorted fine cheeses from Y. Hata, and Sodexho. $75 presale. $85 at the door. Visit www.shidler.hawaii.edu or call 956-6926 for more information.
http://www.shidler.hawaii.edu/Default.aspx?tabid=732
GAVIN NI - CEO and President of Zero2IPO
CEO of Zero2IPO, Gavin Ni, may be considered as one of China's youngest and most successful entrepreneurs. Gavin started his venture capital firm at the age of 25 while taking his PhD. And although his business has put his further education on hiatus, it enabled him to build Zero2IPO into the most influential and active venture capital research and advisory institution.
Now at 32 years of age, Gavin Ni travels around the world to bring together Chinese and host country venture capitalists to establish entrepreneurial bonds in our increasingly globalizing market. Gavin gets the chance to fly to Hawaii and converse with our Greater Good Radio hosts, Evan and Kari, about his role as CEO and how he has built his company to be the most extensive venture capitalist and entrepreneur network in China.
(more…)