BOB HIAM - President and CEO of HMSA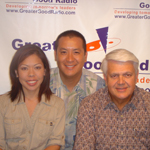 Bob Hiam started off at Hawaii Medical Service Association's Claims department processing claims for the business, a core activity for an insurance company. Patience and perseverance paid off well that 37 years later, he stepped at the helm of Hawaii's largest health insurance provider – providing healthcare coverage to more than half of the State's population.
"It's an interesting business. It had opportunities," Bob says. "HMSA was growing and adding business at the time and I believe that being at the right place at the right time has a lot to do with things."
"I was there and just sort of worked up thru the levels of management and levels of responsibility," he adds.
(more…)
UHAA 2008 Centennial Celebration with Distinguished Alumni
Honolulu—The University of Hawai'i (UH) and the University of Hawai'i Alumni Association are pleased to announce the 2008 Centennial Celebration with Distinguished Alumni at 5 p.m. on May 22 at the Sheraton Wakiki. This year UHAA will honor its heritage by celebrating with all Distinguished Alumni Award honorees from the university's first century, while helping to lay a solid foundation for the next 100 years of scholarship at UH.
For more information on the Centennial Celebration with Distinguished Alumni and a complete list of all UH Distinguished Alumni, please contact the Alumni Relations office at 956-4563 or 1-877-UHALUMS (842-5867), or visit UHalumni.hawaii.edu.
Click here to download PDF flyer.
W.R. Farrington High School Restructuring Plan Presentation
EVERYONE IS INVITED
Join us and see how an investment in education pays off. We will be unveiling Farrington's Restructuring Plans to the public. The plan is designed to assist all the students to get high quality education. Come see how you can help be a part of making FHS the place where everyone wants to send their children.
Working together, Learning together, In Balance and Harmony
Farrington H.S. Auditorium
Monday, April 28th 6:15–8:15 pm
FRANK DE LIMA - Hawaiian Comedian, Founder of Frank De Lime Student Enrichment Program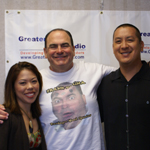 Frank De Lima is one of Hawaii's most celebrated comedians. Frank has won the coveted Na Hoku Hanohano Award for 11 of his 13 comedy albums. He founded the Frank De Lima Student Enrichment Program in 1980, a non-profit organization devoted to providing a better future for Hawaii's students.
His organization aims to help Hawaii's students understand the importance of reading, studying, laughing, and family, and managing major emotional and physical life transitions. Frank visit 350 schools biennially since the programs birth. Frank has received numerous honors, including Governor Cayetano's Kilohana Award for Volunteer of the Year and the Ellison S. Onizuka Memorial Award from the National Education Association.
(more…)
TODD BRADLEY and BRIAN KEAULANA - Founders of C4 Waterman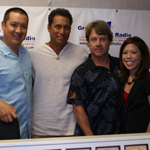 More than highly innovative products, the founders and owners of C4 Waterman, Hawaii-based manufacturers of surfing equipment, have taken to fore the marketing of their lifestyle. Todd Bradley, Brian Keaulana, and Mike Fox base their business philosophy on the four core disciplines of a waterman – balance, endurance, strength, and tradition – leading to their C4 brand. And beyond their mission of advocating the waterman way of life, the C4 owners have grounded a foundation that they hope would protract their already socially veered mindset.
Four months in to their business venture, Bradley, Keaulana and Fox are already riding the huge and fast waves of entrepreneurial success that they wish to reflect back to the community soon.
(more…)
LEAH BERNSTEIN - President of Mountain Apple Company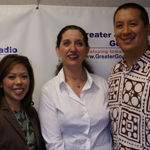 Leah Bernstein sits as president of Mountain Apple Company. Leah has been with Mountain Apple Company since 1980 where she began as a receptionist with only two co-workers. With her involvement, the company continues to achieve unprecedented growth every year of Mountain Apple's existence.
Leah has been involved in the music industry since she was 12, helping out with tons of paper work at the tremendously successful Dunhill Records. Leah has become a crucial instrument in the promotion of Hawaiian tunes to the rest of the world.
(more…)