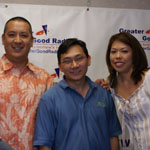 Free Contents :-


00:59:56- - 20.58 MB

The table has turned around for the second time. Guest-host Darren Kimura of Energy Industries shares the microphone with Evan and Kari Leong to take a look at the growth and development of Greater Good and its hosts in the past year.
Darren compares many of the questions he had asked in the foremost Greater Good Radio special and tries to ascertain the lessons and values that Evan and Kari have learned and adopted as their own in the last 12 months of interviewing successful business and community leaders.

The Leongs talk about the significant growth of Greater Good Inc. and the prominent personalities they hope to guest in the future. They also impart advice to would-be entrepreneurs and the youth who hold the potential to be leaders of the next generation.
"A lot of times we can get caught up in the failures that happen in our life and just get bombed by that," Kari says. "But all of the people who have succeeded that we have had the chance to interview so far said, 'Never give up, just learn from those trials and tribulations and also failures because when you do succeed it's going to be because of all of those lessons that you learned'."
In this interview, Evan and Kari also share their outlook on the future and their plans for their family, business, and the community.
Greater Good Radio and guest-host Darren Kimura brings to you this one-hour special. Listen and learn more about life, family, success, career, and the one thing that makes their wheels turn – determination.
BIO:
· Evan Leong is the co-founder and CEO of two distinguished companies in Hawaii: Greater Good Inc and Bubble Tea Supply
· In July 2005, Evan co-founded the highly acclaimed, community-orientated radio show Greater Good Radio
· In 11 months the greatergoodradio.com site has received visitors from 90 countries, 11 million hits and close to 660,000 page views
· Mayor Mufi Hannemann declared the month of September, Greater Good Month, in recognition of Greater Good Inc.'s mission
· Greater Good Month recognizes professionals and business leaders who not only strive for career and business success, but also endeavor in giving back to the community
· In 2001 Evan co-founded Bubble Tea Supply which launched the national bubble tea drink craze
· Run by Evan and Kari, the company distributes product throughout North America, Hawaii, Guam and Saipan
· This makes the Leongs one of the nation's largest suppliers of the bubble tea product
· Under their direction, Bubble Tea Supply has for four consecutive years, won the prestigious Gold Medal Taste Award from the American Tasting Institute
· Evan attended Punahou School and graduated Cum Laude from Hawaii Pacific University where he was the first recipient of the Distinguished Certificate of Business Excellence.
· Evan is also a member of the Delta Mu Delta Honor Society. He obtained his Executive Masters of Business Administration from the University of Hawaii at Manoa in 2005.
· In 2006, Evan was recognized by Pacific Business News in their "Forty under 40" business award.
· He was also selected as one of Hawaii¹s 2006 Top High Tech Leaders on behalf of the Pacific Technology Foundation and the Technology News Network
· In 2007, Kari was recognized with her husband as the SBA Small Business Journalist(s) of the Year for Hawaii, California, Washington, Arizona, Guam and American Samoa.
· In 2006, she was recognized by Pacific Business News in their "Forty under 40" business award.
· Along with the radio show, Kari is also presently a school teacher at Queen Kaahumanu Elementary School.
· In her ten years in teaching, she has helped shape the lives of children from kindergarten to fifth grade at various schools throughout Oahu.
· Kari's has built her successes on a strong business background where she is experienced in corporate office management
· She has held a variety of positions including Assistant Vice President and assistant to the CEO of several national firms
· Kari was also executive director for Advanced Concepts Hawaii, assisting in the company's national expansion and recruiting and managing a nationwide sales force of 400 employees
· Kari holds a Bachelor's degree in Journalism as well as a Masters Degree in Administration, Curriculum and Instruction both from Gonzaga University in Spokane, Washington.
· Graduating Cum Laude for her degrees, she is also a certified elementary teacher and a member of one of the Educator's Honor Society, Kappa Delta Pi.
· She is a member of the Mayor's Pacific Century Fellows
· She is on the board of directors for the Women's Fund of Hawaii
· She is also a judge for the PACE Business plan competition at the University of Hawaii at Manoa,
· She is an active participant with Mid-Pacific Institute Alumni and serves as a class representative
· Evan and Kari Leong have two young sons