Greater Good Radio - Good Intentions
Evan and Kari Leong —
Greater Good Radio
Written by Christina Kale
Photo by Kevin Blitz
Business inspiration comes in all shapes and sizes, say entrepreneurs Evan, 33, and Kari Leong, 32.
The couple's life changed in 2001, when they discovered a sweet tea drink with small, textured tapioca balls in the bottom. Kari estimates that they were spending a small fortune, at least $4 per drink several times a day, at their favorite tea shop.
"When we asked the owners how to make the drink they started speaking to us in Chinese," Kari says. Unable to understand the shop owners, curiosity fueled the Leong's idea to start their own Bubble Tea Supply business.
(more…)
USS Abraham Lincoln
USS Abraham Lincoln
My brother's wedding
Kauai trip
Meeting with John Dean and small group
Sunrise Rotary
Star Bulletin Article
TV Pilot Screening
Advice from the wife

Free Contents :-


00:17:07- - 6.86 MB

Good to go - Greater Good Radio challenges Hawaii's business leaders to take public service seriously
Star Bulletin July 24, 2006
By Katherine Nichols
Community service was an important part of Evan Leong's life as a youngster. "It was called detention," he laughed.
But Leong, 33, has come a long way.
Now he and his wife, Kari, 32, are nearly one year into their multifaceted media venture, gaining attention worldwide as Greater Good Radio. They interview Hawaii's top business people in an effort to "develop tomorrow's leaders." Leong hopes that candid discussions with Hawaii's most successful entrepreneurs "who have successfully incorporated a social mission into their business model" will inspire the next generation to give back to the community within the framework of their professional endeavors.
(more…)
DANNY LUI - Chairman of Authosis Ventures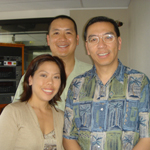 Entrepreneur and venture capitalist, Danny Lui, came from a working class family in Hong Kong—but despite their economic situation, Danny never ran short of dreaming of a brighter tomorrow. And all his vision came to reality because of his strive to learn and know more about his passion, computers.
In the late 70s he graduated from a London university with a degree in Computer Science. He then worked for a London-based firm building software applications for other companies. Danny went back to Hong Kong in 1982 and started Daw Computer Systems, Ltd. In 1987, he teamed up with China Academy of Sciences' Institute of Computing and founded Lenovo, which in December 2004 acquired the PC Division of IBM for $1.7 billion.
(more…)
BRIAN SCHATZ - Hawaii State House of Representatives, CEO of Helping Hands Hawaii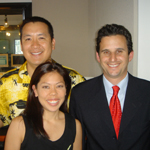 Brian Schatz's community involvement is spread too far but not too thin. His public service targets all walks of life, from disadvantaged youth to ailing senior citizens; and different sectors, from education to the environment—all this made possible by the myriad of programs that his $6 million organization, Helping Hands, implements annually.
Schatz considers his political involvement as an extension of his public service and not-for-profit commitment. He had begun his non-profit work through the Youth for Environmental Service years prior to joining politics as a member of the House of Representatives in 1998.
(more…)