The aftershow portion of our interview gives us the opportunity to really get into the finer details without the time constraint and pressure of the radio show.
You will get to hear unscripted, impromptu and candid answers from our guest to questions that have helped them succeed. Some of their slip-ups turned to learning experiences quickly and they share with our listeners tips on how not to make the same mistakes they did. Hear advice on how to balance a personal life with a successful business life. Get insider tips of what a Board would look for when seeking their next CEO. Find out if an elevator pitch is hitting the right singing pitch in the elevator.
Subscribe and know more than what your co-worker or competitor may know. Don't miss out or be the last to hear the secrets of success ...
Subscribe to all aftershows
$29.95 per month and archived aftershows for $1.99 each.
BERT A KOBAYASHI - Founder, Kobayashi Group LLC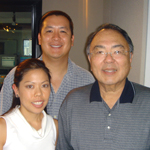 A successful business is determined by revenues, profits and a long-standing history. Albert C. Kobayashi Inc. represents this type of business. Not only is it the largest local construction company in the state, it is also on its 3rd-generation of ownership.
Bert Kobayashi, retired principal of the Kobayashi Group and former CEO of Albert Kobayashi Inc. inherited the business from his father when he was 19. He now has over 38 years of contracting experience and 32 years as a developer. The Kobayashi Group is now run by his children, Patrick, BJ and Alana.
(more…)

00:29:54- audio/mpeg - 11.98 MB


Buy Exclusive Aftershow $5.95

JOEY CALDARONE - CEO of Joseph Caldarone, Inc. and Director of Manoa Valley Theater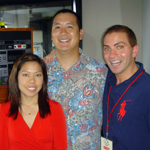 Greater Good Radio has had the opportunity to interview Hawaii's adopted children—mainlanders coming in to the islands and establish themselves as entrepreneurs and philanthropists.
Joey Caldarone is one of these people; making Hawaii his home, founding his own business and engaging in community outreach.
The state has been a regular travel destination for Joey and his family since the 80s. But it was only five years ago that he decided to stay for good. Here, he was able to establish himself as a real estate agent and recently, owner of an interior design and consulting firm in his namesake.
(more…)

00:29:20- audio/mpeg - 26.87 MB


Buy Exclusive Aftershow $5.95

LARRY JOHNSON - Retired CEO of Bank of Hawaii, Board of Star Bulletin and MidWeek, Hawaii Tourism Authority, Hawaii Pacific University, The Hawaii Community Foundation and The Nature Conservancy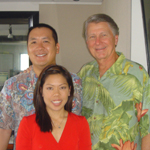 After college, Larry Johnson worked as a bank teller for $500 a month. Eventually, Johnson was appointed to branch manager in Waikiki as a 27-year old. He would then gradually make his way up the corporate ladder to become chairman of the board and CEO of the Bank of Hawaii.
(more…)

00:30:39- audio/mpeg - 28.08 MB


Buy Exclusive Aftershow $5.95

JON de MELLO - Owner of The Mountain Apple Company
Jon de Mello is the big man on campus when it comes to Hawaiian Music. The way he went from art school to music production is a captivating story that has many twists and turns. Especially interesting is how he developed his business skills.
In 2002, he became the first producer from a Hawai'i record label to have achieved an RIAA certified Gold Record and in 2005 achieved Platinum. Jon was instrumental in the Grammy Awards adding the Hawaiian Music category in 2005 and 3 out of the 5 nominees were represented by Jon and his company.
(more…)

00:30:01- audio/mpeg - 12.03 MB


Buy Exclusive Aftershow $5.95

DR KENT M KEITH - CEO of Carlson Keith Corp, Author of "Anyway: The Paradoxical Commandments"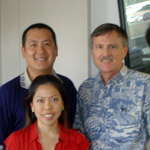 Dr. Kent Keith holds an eclectic educational background; from Harvard, taking BA in Government, to Oxford, as a Rhodes Scholar, then moving on to take Japanese at the Waseda University in Tokyo, his J.D. from the University of Hawaii and Ed.D. at the University of Southern California
He has practiced law, been a cabinet member for the State of Hawaii, and held a six-year tenure as president of Chaminade University. But his greatest achievement is his bestselling 'Anyway: The Paradoxical Commandments', receiving worlwide recognition that the likes of Mother Theresa has even hung a poster of the decalogue on her wall.
(more…)

00:30:01- audio/mpeg - 12.03 MB


Buy Exclusive Aftershow $5.95

BILL RICHARDSON - Owner of HMS Hawaii Management Partners, Inc, Partner in Dragon Bridge Capital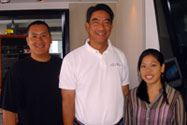 Bill Richardson is an integral entity in one of the leading venture capital funds in the state. He is an active investor and mentor in Hoku Scientific, Digital Island and Hoana Medical.
To add to his career portfolio, Richardson manages to get involved in a number of non-profit and charitable organizations including Hospice Hawaii, Kidney Foundation, HiBeam, and University of Hawaii Foundation.
Richardson started off his career as a lawyer, practicing his trade for three years, but always had business in mind. Through starting his own business he thought he could help the Hawaii economy grow and prosper. His background and extensive connections pave the way for him to engage in venture capitalism.
(more…)

00:29:27- audio/mpeg - 11.80 MB


Buy Exclusive Aftershow $5.95

ANDREW AOKI - Partner in 3Point Consulting, Co-Founder of College Connections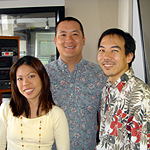 "If there's one thing we know how to do, that's apply to schools."
Andrew Aoki speaks candidly about his extensive educational background, having studied in top universities including Harvard, Stanford, and University of Michigan.
But despite his broad educational experience, Aoki chose to serve the public.
He is a co-founder of 3-Point Consulting, which works with community-based organizations in their business strategic planning, combining their social mission with business reality of staying financially viable.
(more…)

00:29:53- audio/mpeg - 11.98 MB


Buy Exclusive Aftershow $5.95

JAMES YAMADA JR - President of A-1-Alectrician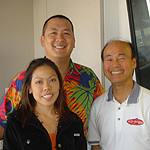 James Yamada Jr. has turned his family-run business from a 25-personnel firm in the 1970s to a 150-man workforce today; the company earning $40 million per annum.
After his father's death in 1979, Yamada began to apply the principles he learned from Peter Drucker on employee and customer relations, and involvement in social giving. Today, A-1 A-lectrician is an active donor to a number of foundations and charities including Youth for Christ, Salvation Army, and University of Hawaii Foundation.
(more…)

00:30:11- audio/mpeg - 12.10 MB


Buy Exclusive Aftershow $5.95





— Next Page »