MATT MEE-LEE- CEO of Techmonde Corporation ***** (5.0)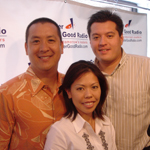 Matthew Meelee started his career working for various software companies in Hawaii. But Matthew's ultimate calling is in the entrepreneurial realm, which brought him to set up an offshore company that caters to the skills requirement of US-based organizations.
Adapting the concept of the BRIDGE program, Matthew and Techmonde Corp. employees opened a whole new philanthropical possibility in the Philippines that has the potential to help a significant proportion of the destitute millions in this Asian country.
(more…)
NAOMI HAZELTON and JAMIE GIAMBRONE - Owners and publishers of Pacific Edge Magazine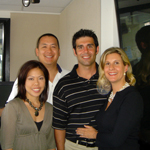 Without capital or financial backing, Naomi Hazelton and Jamie Giambrone were able to put together Pacific Edge Magazine, using only their ability to establish rapport and build thriving relationships with their sponsors and contributors.
Their interpersonal skills were backed by their passion and enthusiasm, and ultimately, their drive to realize a dream. These factors all contribute to the success of their business magazine, focusing on young professionals aged 22-39 years—a demographic group that no other Hawaiian publication has ever touched base on.
(more…)
ADMIRAL THOMAS FARGO - Retired Navy Admiral and Commander of the Pacific Command, President of Trex Enterprises Corp, Chairman Loea Corp, Chairman Sago Systems Inc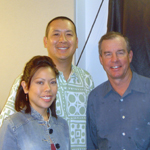 Retired commander, Admiral Thomas Fargo's years of experience in the military has become a significant factor in his current seating as a corporate executive. Now the CEO of Trex Enterprises, a high-tech research and development company, Admiral Fargo is able to use his skills and knowledge to mold an easy transition and operate effectively in the business world.
As a top military officer, Admiral Thomas Fargo has traveled around the globe mostly in the Pacific region to help establish economic and security ties with the orient. Admiral Fargo's decades of experience in the Navy brought him to understand different cultures and instill in him a sense of understanding and tolerance, prerequisites to peaceful coexistence.
(more…)
Kari's Journal July 31st
Journal July 31, 2006
I guess I'll be making it a quarterly journal. Last time I wrote I talked about turning 32. This time the celebration was because Evan and I celebrated our 8th wedding anniversary. Wow, time sure flies.
So far a lot has happened. Evan shared some of what was going on… but I'll add my perspective as sometimes it's quite different being a female and also his partner and wife! So one of our big moments was both of us winning the 40 under 40 for Pacific Business News. What an honor that was. I was hoping that both of us would be recognized, but wasn't sure because of our overlap in the many things that we've done together. However, although we've worked with the same company a few times, our roles and responsibilities were always different and our accomplishments within the companies were different. It's funny how people will just see it as one. I guess when you get married, you truly are one, especially if you do things together.
I was having lunch with my mom the other day and I mentioned to her that my biggest challenge in my career is not moving up or doing things, but it was being an individual. Funny how Evan and I were both listed individually for the 40 under 40, yet many people think that we won as a couple. Yet when we tell them that it was an individual accomplishment, people seem surprised. Hmm, surprised because I won or because Evan won????
(more…)