NATE SMITH - President of Oceanic Time Warner Cable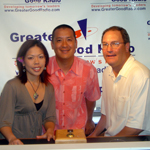 Most of Nate Smith's corporate career has been spent with Time Warner Cable network, bringing him to different locations around the continental United States, ultimately making him a vital figure in the growth and expansion of the group. Since 2001, Nate sits as president of Hawaii's Oceanic Time Warner Cable, in charge of 900 employees and over 400,000 customers who avail of their services; from high-speed ICT to cable television.
Prior to moving to the islands, Nate worked as CEO for Sky Network TV New Zealand. From 15,000 subscribers and $1 million in losses every month, Nate helped lift the company from the doldrums and place it as the seventh largest company in the New Zealand stock exchange, six years after his incumbency.
(more…)
Greater Good Book #1 update
Greater Good Book #1 update
Philippines trip
Greater Good TV update
Ma'o Organic Farm fund raiser at Town Restaurant
Small world - Pierre Omidyar, Jack Johnson and MySpace

Free Contents :-


00:11:54- - 4.77 MB

DAVID COLE - Chairman, President and Chief Executive Officer Maui Land and Pineapple Company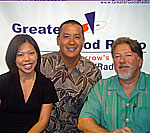 Maui Land and Pineapple Company was on a big turnaround after David Cole took over the helm almost two years ago. Incurring successive losses and over $50 million in debt, Maui Land and Pineapple was on the verge of collapse—only to be rescued by David, who stated that the company would be profitable across all of its divisions by 2007.
David, who has a diverse background in business as an executive/investor, uses his broad experience to bring Maui Land back to life through a healthy balance sheet. His contributions also go well beyond the company to encompass the larger community, and more significantly, the environment. For over 20 years, David has been an active conservationist, playing important roles for such organizations as the World Wildlife Fund, The Nature Conservancy, and the American Farmland Trust.
(more…)
JOAN BENNET - President and CEO, the Bennet Group Strategic Communications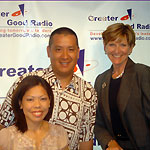 Joan's self-competitiveness has brought her on top of some of the world's most magnificent mountains—and her love for the outdoors and the challenge it offers translates into an effective business strategy. Joan, president and CEO of Hawaii's foremost 'virtual' PR firm, applies what she learns from her mountaineering experience to the competitive world of public relations. 80 per cent of all mountain climbing accidents happen downhill, according to Joan, and like in business one must be on guard 24 hours, ready to take on anything that comes along the way.
This frame of mind has brought her firm to become Hawaii's seventh largest PR company with over $1.4 million in revenue, notwithstanding a fairly minimal number of six employees.
(more…)
RITCHIE MUDD - president and CEO of RSI – Roofing and Building Supply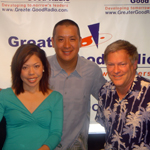 It can only go down to perseverance and determination to proudly own and successfully run a company in a fiercely competitive industry without having any background in business. These characteristics pose as Ritchie Mudd's ticket to forming the largest and only locally owned and operated roofing supply business in Hawaii.
Ritchie started his working career in Hawaii as a waiter for Victoria Station Restaurant. In 1983, he bought an abandoned 20" container, which served as his office and the start of a venture that would eventually make Ritchie a powerhouse in the building industry. Since then he has grown his 8000 sq. ft. property to a 120,000 sq. ft. facility and established offices in neighboring islands.
(more…)