JOHN DE FRIES - CEO of Hokulia, President and CEO of Native Sun Business Group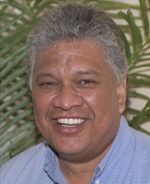 John DeFries has dedicated most of his professional years to promoting the islands of Hawaii. For the past 28 years, he has been directly involved with the State's visitor industry. Today, John sits as president and CEO of Hokuli'a Development, a 1550-acre master plan community on the Big Island.
John owes his career inclination to the exposure that he has had with various cultures, which has also made him realize the value of his own customs and traditions.
"Engaging with people who come from different places in the world is probably an education that I value greatly even to this day," he said.
John's mother, who took care of him and his siblings as they grew up, continues to be his inspiration. But what made a profound impact in his outlook is the passing of his father when he was 28 years old.
(more…)
CLINT CHURCHILL - Trustee of the Estate of James Campbell, former Commander of the Hawaii Air National Guard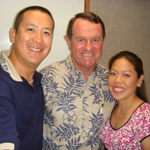 Clinton Churchill's personal and professional experience spans industries and geographies, and he uses this eclectic background as a tool to reach out to the community.
A former commander of the Hawaii Air National Guard, Clint-who moved to the Islands with his wife 39 years ago-sits as trustee to The Estate of James Campbell, an organization administering the assets held in trust under the will of James Campbell. He is also a Board member for the Bank of Hawaii and Hawaii Pacific Health, and an Executive Board Member and Past President of the Boy Scouts of America - Aloha Council
(more…)
CAROL AI MAY - Vice President of City Mill Co. Ltd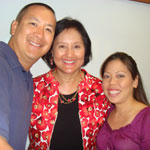 "I love being in charge of my own destiny," says Carol Ai May, vice president and marketing manager of City Mill.
Carol was born to a business-minded family, and tried to cultivate her entrepreneurial spirit while building a career in advertising after leaving college. She struggled while trying to climb the ranks but learned how to survive in the modern world. She carved a successful career for herself in the advertising industry, but soon enough was asked to consider using her talents in marketing and advertising in the family business, City Mill.
(more…)
JAMES KAPAE'ALII SCOTT – President of Punahou School, Hawaii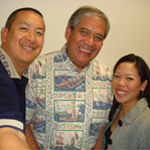 Dr. Jim Scott, president of Punahou School, may be described as a devout academe. After graduating from Stanford University in 1975, Jim joined the faculty of the Robert Louis Stevenson School in Pebble Beach, California, and rose through the school's professional faculty ranks to become Academic Dean.
During his tenure at Stevenson, he earned an M.A. Degree in Private School Leadership at the University of San Francisco. After eight years at the Stevenson School, he entered Harvard University to work on his doctorate degree in Administration, Planning and Social Policy and earned his Master's Degree in that field in 1985, and his doctorate in 1991. Jim was Headmaster of Catlin Gabel School in Portland, Oregon, prior to coming to Punahou where he has been tenured since 1993.
(more…)
WALTER KIRIMITSU – President of Saint Louis Schools Hawaii and former judge at Hawaii's Appellate Court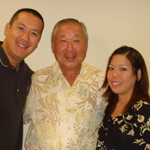 Walter Kirimitsu is the first non-clergyman to lead Saint Louis Schools Hawaii in its 160-year history. Walter, a former Appeals Court Judge for Hawaii, sits as president, headmaster and chief executive officer of Saint Louis.
He is a member of Saint Louis' Gallery of Distinguished Achievers for his community leadership and outstanding contribution to the betterment of Hawaii and for upholding the banner as an exemplary Saint Louis gentleman.
(more…)
BARBARA HASTINGS and BARBRA PLEADWELL - Partners at Hastings & Pleadwell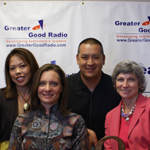 Barbara Hastings and Barbra Pleadwell are partners at one of Hawaii's top 10 PR firms, Hastings & Pleadwell. H&P has worked on environmental preservation, recycling, illegal dumping, tobacco control and homelessness. They maintain their commitment to education through mentorship and an internship program at the firm.
To celebrate their 10th anniversary, Hastings & Pleadwell launched a campaign called 10 Good Deeds for 10 Great Years. The partners have been and are currently involved in a number of non-profit organizations and community initiatives.
(more…)
PONO SHIM - Marketing Executive and Founder of Concierge Services at Ward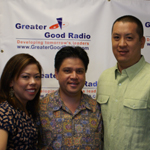 "What I saw in the Concierge at Ward was an opportunity to build relationships," says Pono Shim, who has worked for Ward Properties for 17 years. Seeing an open door to entrepreneurship, Pono accepted the concierge service for the Ward 16 Theatre, becoming its first strategic partner—and beyond this, he saw a brighter prospect in being able to bring individuals and businesses together.
Today, the Concierge Services at Ward plays an important role in meshing people and building stronger ties within the Islands' populace—and what started as a way of "keeping in touch" with friends and family has grown into a database of over 10,000 long term and trusted relationships.
Officially opening in August of 2001, the company strives in building value to consumers and revenues for partnered businesses and organizations.
(more…)
KATE HOGLE - President and Media Director of KWME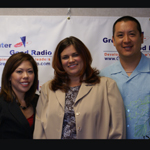 Kate Hogle has worked in radio and TV sales until 1998 when she made a life changing decision of running her own business. In that year, she started Ohana Media Partners with Kit Warrington. Kate currently sits as president and Media Director of KWME, having acquired the company in 2002.
Kate runs KWME with three employees. Through hard work, persistence, determination, and the foresight to grow and change with times, she has retained and grown the company's clients, some of which have been with them for more than 26 years.
(more…)
MARC TILKER - President and Chief Executive Officer of the Marathon Group of Companies
Marc C. Tilker is president and chief executive officer and one of the principal owners of the Marathon Group of Companies. The Marathon Group is composed of BEI Hawaii (Hawaii's largest distributor of industrial chemicals, fertilizers, and agricultural products); HT&T Hawaii (Hawaii's largest heavy and medium-duty truck dealer) including Peterbilt, Volvo and GMC dealerships and BES (BEI Environmental Services) which was sold in December 2005.
Marc spent 10 years with C. Brewer & Company, Ltd. most recently as Executive Vice President and Chief Financial Officer of Brewer Environmental Industries LLC, a $100 million diversified corporation operating on Oahu, Kauai, Maui, and Hawaii with satellite offices in Guam, Tokyo and Seattle. Prior to that Marc was with Deloitte and Touche in Honolulu.
(more…)
CHRIS HARRIS - Partner at Shredex LLC, IslandShell LLC, and Intech Management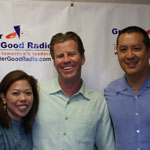 Any one can be of service to others and to the environment in their own special way. Regardless of financial and physical capacity, an individual may perform a civic duty by getting down to the basics.
For Chris Harris, one of the partners at Intech Management, Shredex and Island Shell, it is by collecting trash during a leisurely walk along the beach. Having a strong connection with the ocean, Chris volunteers for the Surfrider Foundation and has been involved with the Blue Water Task Force doing water testing back in college.
(more…)
RON NAGASAWA - Publisher of MidWeek, HILuxury Magazine and iflygo.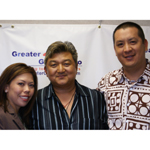 Ron Nagasawa joined then fledgling Midweek in 1984 as a sales assistant. Staying with the company for 24 years, Ron has seen the growth and development of the publication, which today has more than half a million in circulation. Ron stepped up as publisher in 2001.

In this Greater Good Radio interview, he talks about the beginnings of his career working for a foundation catering to disabled children in California. Moving to Hawaii as a teacher for the Department of Education, Ron has worked with special children, which touched his heart and taught him many valuables lessons in life.
(more…)




— Next Page »